At the beginning of October the PGCE required us to be in groups specialising in all areas of art & design - everything from sculpture to drawing to textiles - and we were to put together a workshop to be used by a class in a London secondary school. The purpose of the workshops was to educate the children about Sir Christopher Wren, London architecture and to improve their art & design abilities and interests. I was in the 'drawing' group and together with my classmates we put together a workshop over several days...it was tough in the beginning but we eventually sorted it. Our workshop was based in North London at an academy school.
At the beginning of the workshop we showed a presentation of Christopher Wren's achievements in rebuilding London after the fire of 1666. The children were shown some of his best architecture and were invited to discuss the way it looked and made them feel.
We then took it in turns showing the children how to use charcoal and collage to create their own sketches and illustrations of architecture from the city of London.
They all got to work and did some pretty good drawings!
Aswell as working independently we got them work collaboratively too.
With an array of illustrations underway, we got them to produce 2 really big 'mural' type illustrations as a class that would go on display in their classroom. This task meant they had to work together and negotiate to create their final piece.
With all their work complete we hung up their small sketches and drawings on a fishing line in the classroom to set up a mini exhibition. Following this we hung their finished group piece outside on the wall for them to all pose in front of it! Overall the workshop went really well and the kids loved it, even if they went home covered in charcoal and glue!
The following two photos I am entering into a competition at my university. The competition focuses on art as research, and can be entered by any student or member of staff from the university itself. I looked at last years entries which were amazing, so I have no chance of winning, but I thought I'd give it a go.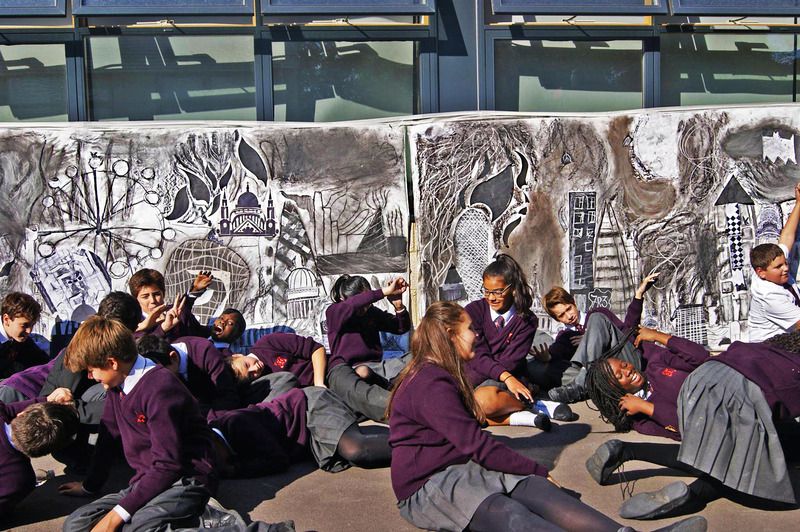 We've done an awful lot in October for the PGCE - as a group we've all been put in our first placement schools, alongside attending workshops at the university too. So because of that, I will post part 2 over the next few weeks!